See how 10 couples reconfigure their living spaces after their children move out
       While children are living at home, it can be hard to fathom a life without little ones (or not-so-little ones) underfoot. So when you do have the house to yourself, it may not be at all clear what to do. Should you keep everything as-is, renovate, downsize — or even upsize? Of course there's no one right answer — but it makes sense to consider this an opportunity to reflect on what you want from this new chapter in your life and allow your reflections to inform your next step. Read on for 10 inspired examples of how real-life empty nesters approached their homes after the flock took flight, and see if any of their stories spark an idea you can use.
1. Cozy Up in a Couple's Lounge
After their children left home, this St. Louis couple tapped interior designer Maria DeGange to help transform an underused sitting room into a cozy space to play games, read and watch TV. With a big, cushy sectional anchoring the space, good lighting, a soft wool rug underfoot and all of their favorite books and games at hand, this room has become a favorite spot to hang out in the mornings and evenings.
2. Get Fancy
While it's certainly true that there are loads of stylish and kid-friendly decor options out there these days, the fact remains that certain modes of decorating just don't make sense while kids are in the house. In the space seen here, Baltimore designer Elizabeth Reich of Jenkins Baer Associates helped a pair of empty nesters reclaim their home — which in this case meant adding elegant custom upholstery and window treatments, extra molding for architectural interest and art commissioned for the space.
Photo by Siemasko + Verbridge -
3. Tackle a Long-Awaited Remodeling Project
Between saving for college and the general busyness that comes with having kids at home, it's no surprise that plenty of empty nesters see their new situation as an opportunity to finally invest in the renovations they've been dreaming of for years. In this family home, designer Jean Verbridge of Siemasko + Verbridge helped a couple with four children reimagine their space after the kids moved out. By opening up the layout and completely remodeling the kitchen, the home now reflects the Scandinavian modern style the couple love.
Photo by Christen Ales Interior Design 
4. Create a Hub for Family Get-Togethers
Alan and Ellen Muskin wanted enough space to comfortably host their annual seder dinner, which regularly draws more than 20 guests. As recent empty nesters, they decided to do something a bit unusual: They let go of some bedroom and bathroom space and put it into a great room that can easily fit the large group gatherings they love to host. With help from interior designer Christen Ales, the couple created a midcentury-inspired room with tons of natural light and vintage furnishings, perfect for holiday and year-round entertaining.
5. Downsize in Stages
When it came to downsizing their 5,000-square-foot home near Vancouver, British Columbia, "we just couldn't do it cold turkey," says homeowner Cathi Campbell. She and her husband, John, were nearing retirement, and with their three children out of the house, they knew it was time to move into a smaller space. But instead of facing this massive change all at once, the couple opted to test out city living by renting a condo before committing. They loved it, and went on to purchase a 1,000-square-foot, two-bedroom unit of their own.
Interior designer Lori Steeves of Simply Home Decorating helped the pair assess their belongings — including the three large storage units full of stuff they held onto after moving that wouldn't fit in the condo. Now their city pad is filled with a thoughtfully curated collection of their absolute favorite pieces, and they have the time and resources to enjoy the city just steps from their home.
6. Upsize for Grandkids
Instead of downsizing when their last child moved out, this couple decided to upsize their home to accommodate their extended clan. Ani Wade of Wade Design Architects and Jennifer MacDonald of Jennifer Robin Interiors worked with the couple to design a new house on the same property where the couple raised their four children. A must-have in the new space? A fun bunk room for visiting grandkids.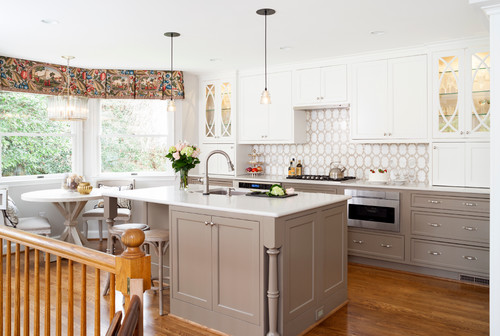 Photo by Melissa Cooley, UDCP / Case Design/Remodeling Inc. 
7. Rethink the Kitchen
The way one or two adults use a kitchen is a far cry from the needs of a bustling household full of kids. With their three kids out of the house, this Maryland couple wanted to make their kitchen an inspiring and functional space that made sense for a new life phase. To help make it happen, they called in Melissa Cooley and Samantha Klickna of Case Design. The reimagined kitchen forgoes a giant fridge and bulky banquette seating in favor of ample china storage, separate workstations for smoothies and coffee, and a sleek round table for two tucked beside a sunny window.
Photo by eric odor, aia, leed ap. SALA Architects -
8. Enjoy Your Outdoor Space
This Minnesota couple had a large and lovely backyard, but you'd never know it from inside their dark 1990s tract house — so they tapped architect Eric Odor to give their home a new lease on life. Odor removed interior walls, reconfigured the layout and added large windows, creating an inviting connection with the backyard, where a fire pit and bubbling sculptural fountain beckon.
Photo by Jennifer Connell Design -
9. Prepare to Party
Designer Jennifer Connell and her husband, Shane, had been planning their empty-nest strategy since before the kids left home, and they knew what they wanted: a fun, cozy loft in New York City where they could enjoy the culture and nightlife. The 800-square-foot Soho apartment they landed on fits the bill — especially after Connell put her stylish stamp on the space. The high-ceilinged living room is ideal for entertaining family and friends before a night on the town, and the mood-boosting colors and eclectic art are sure to put everyone in a party frame of mind.
Photo by Violandi + Warner Interiors 
If you're lucky enough to have a summer getaway, you might have mused in the past about transitioning your seasonal digs into a year-round residence. As an empty nester, that may no longer be an impossible dream — and it's just what the owners of this summer house on Cape Cod, Massachusetts, decided to do.
After their three children flew the coop, the couple sold their home in the suburbs of Boston and moved into a city apartment while transitioning their Cape Cod weekend house into a year-round home base. Interior designers Caroline Kamp Warner and Robin Violandi of Violandi + Warner Interiors partnered on the project, nearly doubling the original space with dedicated bedrooms for visiting family as well as two bunk rooms (one of which is seen here) over the garage for future grandchildren.